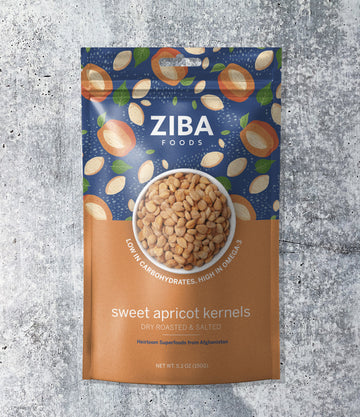 Bamyan Sweet Baby Apricot Kernels 5.3oz
15% discount
on every order placed for
1 year
.
Learn more
Product availability
Readily Available
This item is available throughout the year, and we proudly regard it as a staple of our catalog. If it is not in stock at the moment, it will likely be replenished soon.
Product Description
Dry roasted and salted sweet apricot kernels are a delicious, nutty snack, and also an excellent source of protein, Fiber, and Omega 3 fats, making them a superfood. This offering is farmed in Bamyan, Afghanistan.
Ziba Foods, based in Kabul, continues doing the incredibly rewarding work of introducing these heirloom ingredients to a far wider audience, while simultaneously upholding an impactful operation at the source. In addition to supporting small-scale family farms throughout Afghanistan, Ziba also maintains an 80% women workforce at their headquarters in the capital.
 Each package contains 5.3 ounces of Apricot Kernels
How It Arrives
Shelf Stable
If stored in a cool, dry place, this item will maintain its quality for several months or even years. Please refer to the language on your item's packaging or contact us directly to confirm the precise longevity of your item.
Shipping Policy
Non Perishable
This item will be sent to you via ground shipping. However, if combined with a perishable item, we will ship the entire order overnight to ensure your perishable items' quality. Exceptionally large shipments may incur additional charges.