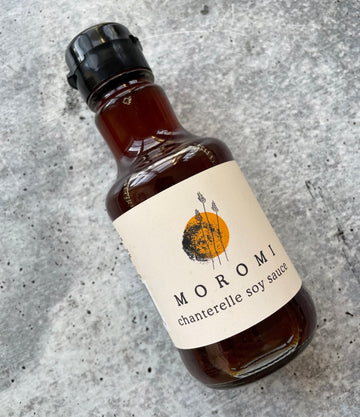 Chanterelle Soy Sauce (150 ml)
15% discount
on every order placed for
1 year
.
Learn more
Product availability
Readily Available
This item is available throughout the year, and we proudly regard it as a staple of our catalog. If it is not in stock at the moment, it will likely be replenished soon.
Product Description
Moromi is an American soy sauce maker, honoring centuries-old Japanese traditions developed after years of tutelage under mentors in Japan. This selection blends local, wild Chanterelle mushrooms with freshly harvested soy beans, inoculated with carefully nurtured and selected koji mold, or Aspergillus oryzae, the backbone of so many staples of East Asian cuisine. The trio behind Moromi — Bob Florence, James Wayman, and Debbi Michiko Florence — source their Koji directly from Japan, and the remainder of their ingredients are grown and sourced locally, including non-GMO, Connecticut-grown hardy red wheat.
Their finished Shoyu is rich and complex, and the addition of Chanterelles delivers even more umami and earthy fruit sweetness.
150ml bottle
How It Arrives
Shelf Stable
If stored in a cool, dry place, this item will maintain its quality for several months or even years. Please refer to the language on your item's packaging or contact us directly to confirm the precise longevity of your item.
Shipping Policy
Non Perishable
This item will be sent to you via ground shipping. However, if combined with a perishable item, we will ship the entire order overnight to ensure your perishable items' quality. Exceptionally large shipments may incur additional charges.