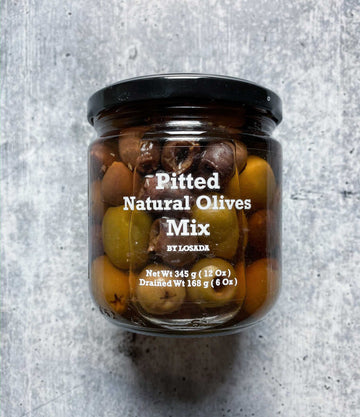 Natural Three Olive Mix, Pitted
15% discount
on every order placed for
1 year
.
Learn more
Product availability
Readily Available
This item is available throughout the year, and we proudly regard it as a staple of our catalog. If it is not in stock at the moment, it will likely be replenished soon.
Product Description
This Spanish pitted olive trio contains Aloreña, Cuquillo, and Cornicabra varieties in a natural cured brine, presenting a dynamic mix of sizes, colors, textures and flavors. Altogether, they make a stellar mixture for a standalone snack and are superbly simple to incorporate into a recipe thanks to their pitted format.
Aloreñas are egg-shaped, pale in color, with a pleasantly mild and salty crunch. Cuquillos are naturally spherical, black in color, and somewhat crackly in texture. Far more aromatic than acidic or bitter, they present a touch of smokiness up front and a sweet finish. Cornicabras are oval, ranging in color from pale pink to deep purple, with potent malic acidity and wonderfully fresh aroma.

Carmona, Andalusia, Spain

12oz
How It Arrives
Shelf Stable
If stored in a cool, dry place, this item will maintain its quality for several months or even years. Please refer to the language on your item's packaging or contact us directly to confirm the precise longevity of your item.
Shipping Policy
Non Perishable
This item will be sent to you via ground shipping. However, if combined with a perishable item, we will ship the entire order overnight to ensure your perishable items' quality. Exceptionally large shipments may incur additional charges.