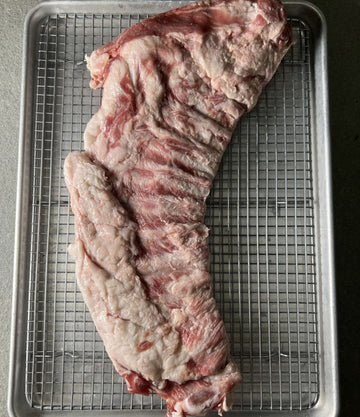 Rib Rack - Puro Alentejano Domestic Ibérico (~3.5 lbs)
15% discount
on every order placed for
1 year
.
Learn more
Product availability
Readily Available
This item is available throughout the year, and we proudly regard it as a staple of our catalog. If it is not in stock at the moment, it will likely be replenished soon.
Product Description
With an exceptionally generous meat to bone ratio and the signature succulence and nuttiness of Ibérico pork, this rib rack is one of the most decadent ways to to experience the essence of our Puro Alentejano pork. These are superbly suited for the grill, but are also a wonderful candidate for slow-cooking in roasts or stews. 

Though the title may trigger a double-take, it's true—raised on over 200 acres of pasture in New Jersey, these pigs descend from true Portuguese Alentejo hogs that were brought to the states in 2016. Making this happen was a decades-long struggle that required permission from both the USDA as well as the Portuguese government—entities not known for easily making exceptions to the rules. Even once this was overcome, the costs of quarantining the animals in both Portugal and the US amassed hundreds of thousands of dollars. To this day, imported nuts supplement the pigs' diet, and Portuguese regulators visit the farm annually to audit the operation and ensure that every aspect continues to uphold the standards required to wear the Ibérico seal of quality. 
Wild as all of this may be, the results are proportionally thrilling and phenomenal. As excellent as anything we've tasted, we proudly stand by this project and are thrilled to represent all of these cuts.

~3.5 lbs
How It Arrives
Frozen
This item was frozen at peak freshness to extend its longevity and ensure it ships to you in perfect condition. Upon arrival, either thaw and use promptly or transfer immediately to your freezer.
Shipping Policy
Perishable
This item will be overnighted to you in order to maintain its quality. If any item in your cart is perishable, your entire order will be overnighted. Exceptionally large shipments may incur additional charges.