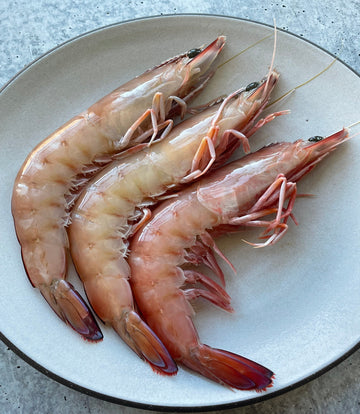 Australian King Prawns (5 kg box)
15% discount
on every order placed for
1 year
.
Learn more
Product availability
Readily Available
This item is available throughout the year, and we proudly regard it as a staple of our catalog. If it is not in stock at the moment, it will likely be replenished soon.
Product Description
These large, succulent prawns are caught in the waters of South East Queensland and northern South Wales, Australia. Their flavor profile is a perfect balance between sweet and savory, with an assertive umami character that comes out beautifully when prepared as sashimi. Raw or gentle cooking showcases the rich, moist texture of the meat, but there is certainly enough structure here to withstand heavier handed preparations, like tempura. 
Though their taste and texture maximize their staying power, these prawns are lookers straight out of the water. Their body is a pinkish apricot hue, their legs dramatically azure, their tails speckled with technicolor markings, from green to brass to gold. Translucent when raw, the meat will morph into pink and white bands once cooked, rounding out their all-encompassing appeal even before the first bite.
Contains 5 kg (11 lbs) in a box. 
How It Arrives
Frozen
This item was frozen at peak freshness to extend its longevity and ensure it ships to you in perfect condition. Upon arrival, either thaw and use promptly or transfer immediately to your freezer.
Shipping Policy
Perishable
This item will be overnighted to you in order to maintain its quality. If any item in your cart is perishable, your entire order will be overnighted. Exceptionally large shipments may incur additional charges.