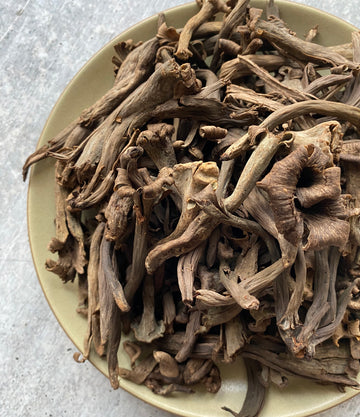 Wild Black Trumpet Mushrooms - 1 lb
15% discount
on every order placed for
1 year
.
Learn more
Product availability
Seasonal
This item is only available during certain seasons, and its availability is dependent upon weather conditions. Ingredients like this are fantastic hallmarks of their seasons.
Product Description
These mushrooms look like Chanterelles dipped in satisfyingly dark ink, and they go by many names: Black Trumpet, the Horn of Plenty, the Trumpet of the Dead. Aside from clearly claiming the enviable distinction of "most metal mushroom," Black Trumpets distinguish themselves with a smoky aroma reminiscent of black truffles, exquisite when cooked on their own or incorporated into a sauce. We especially enjoy folding Black Trumpets into a cream sauce, as their character not only beautifully  enlivens the flavor profile, but their color imbues the dish with an entrancing, otherworldly allure. 
Our Trumpets of the Dead are foraged from high-elevation forests in Oregon, where their season is short but sweetly spooky. As with all wild mushrooms, we advise enjoying yours within three days of receipt, and avoiding water when tidying them up - ideally with a paring knife, mushroom brush, or tea towel.

This item includes 1 lb. of fresh black trumpet mushrooms .
How It Arrives
Fresh
This is a freshly harvested, perishable item that we recommend utilizing promptly upon arrival.
Shipping Policy
Perishable
This item will be overnighted to you in order to maintain its quality. If any item in your cart is perishable, your entire order will be overnighted. Exceptionally large shipments may incur additional charges.