Preorder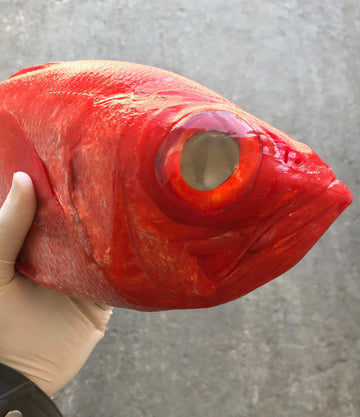 Kinmedai Alfonsino Fish from Toyosu Market
15% discount
on every order placed for
1 year
.
Learn more
Product availability
Pre-order
This item is sourced to order. When requested, we immediately contact our sourcing partner to guarantee it gets to you at peak freshness and quality. Depending on the item, wait time may vary.
Product Description
Kinmedai are endearingly ostentatious deep water fish, with enormous golden eyes and bright red skin that form a stunning, caricatured appearance. They are found all over the world, but prized foremost in Japanese cuisine, where they are very frequently consumed raw, lightly seared, or just splashed with boiling water to subtly tenderize the meat and accentuate its umami characteristics. They are white fleshed, and late spring or early summer catches near Shizuoka are known to be the fattiest and most succulent, just before the catches have laid their eggs. The flavor tends to be mild and not too fishy, with an elegant expression of umami. One note of distinction for Kinmedai is that their skin is very thin and palatable, even when raw. A quick sear can ever so slightly have the effect of crisping the skin and tenderizing the meat, making this fish delightfully versatile and satisfying. In English, Kinmedai are called "splendid Alfonsino," a nickname that suits both their appearance and deliciousness quite well.
Because our Kinmedai is caught and shipped fresh from Japan's Izu peninsula, in Shizuoka prefecture, this item must be pre-ordered. As orders come in, we forward them to our fishing partners in Japan, ensuring that none is wasted and that every order is fulfilled with fresh fish from the world's finest Kinmedai habitat.
Shizuoka, Japan

~4lb average (whole fish)
 ***Due to the perishability of this product, we ship this out once a week on Tuesdays.  The cut off for orders of this product is on Thursdays at 3pm EST to receive it the following week. 
How It Arrives
Fresh
This is a freshly harvested, perishable item that we recommend utilizing promptly upon arrival.
Shipping Policy
Perishable
This item will be overnighted to you in order to maintain its quality. If any item in your cart is perishable, your entire order will be overnighted. Exceptionally large shipments may incur additional charges.