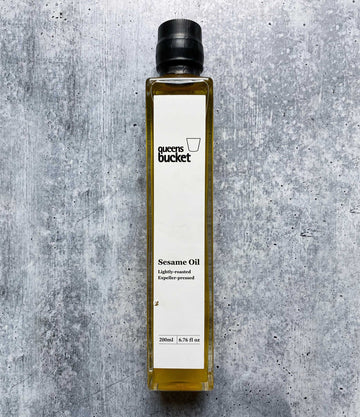 Infrared Sesame Oil-Lightly Roasted
15% discount
on every order placed for
1 year
.
Learn more
Product availability
Readily Available
This item is available throughout the year, and we proudly regard it as a staple of our catalog. If it is not in stock at the moment, it will likely be replenished soon.
Product Description
With a heady aroma of roasted peanuts, a syrupy smooth mouthfeel, and a sensationally resonant finish, this offering totally transcends our typical expectations for a sesame oil.
Queens Bucket is a Korean company that works with the highest quality sesame and perilla seeds in the country, offering them both whole and as rich, phenomenal oils. Thanks to the quality of the seeds and the intense, meticulous low-temperature infrared roasting approach, Queens Bucket is able to coax more vibrance, depth, and electricity from these seeds than any other renditions we have ever tried.
 Contains 200 ml sesame oil
How It Arrives
Shelf Stable
If stored in a cool, dry place, this item will maintain its quality for several months or even years. Please refer to the language on your item's packaging or contact us directly to confirm the precise longevity of your item.
Shipping Policy
Non Perishable
This item will be sent to you via ground shipping. However, if combined with a perishable item, we will ship the entire order overnight to ensure your perishable items' quality. Exceptionally large shipments may incur additional charges.