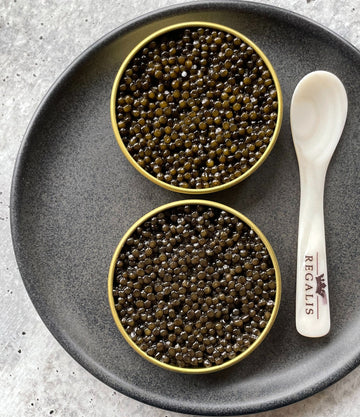 The Kaluga Caviar Special
15% discount
on every order placed for
1 year
.
Learn more
Product availability
Readily Available
This item is available throughout the year, and we proudly regard it as a staple of our catalog. If it is not in stock at the moment, it will likely be replenished soon.
Product Description
For some of our most prized and popular offerings, we are thrilled to unveil special package deals that offer an exquisite ingredient and a bonus treat — free shipping.
The Caviar Special includes two single-ounce jars of Black Kaluga Caviar as well as one gorgeous abalone caviar spoon.
Prized for its petite grain and light grey to slate color profile, this caviar selection has a clean and briny flavor profile, with a creamy finish. This balance of sweetness and brightness makes it wonderfully versatile, especially when spooned directly out of the jar.

We are proud to offer a full line of premium, sustainably-produced caviars packed exclusively for Regalis. All of these caviars are made without the use of borax, pasteurization methods, coloring agents, or any other unscrupulous techniques. We have 100% traceability, allowing us to map every jar back to each individual fish. Regalis Caviar is the purest, most highly regarded caviar one can find.

Produced in China.
Available in 1-oz. 

How It Arrives
Fresh
This is a freshly harvested, perishable item that we recommend utilizing promptly upon arrival.
Shipping Policy
Perishable
This item will be overnighted to you in order to maintain its quality. If any item in your cart is perishable, your entire order will be overnighted. Exceptionally large shipments may incur additional charges.