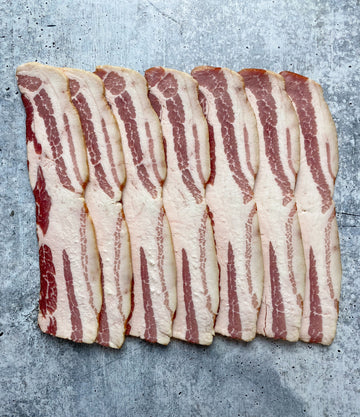 Heritage Berkshire Bacon - 1lb pack
15% discount
on every order placed for
1 year
.
Learn more
Product availability
Readily Available
This item is available throughout the year, and we proudly regard it as a staple of our catalog. If it is not in stock at the moment, it will likely be replenished soon.
Product Description
These Heritage-breed Berkshire pork bellies are rubbed with an heirloom spice mixture before they are slowly smoked using an old English method with natural hardwood. The aroma is intoxicating, the flavor is dense, refined, and wildly satisfying. Whether enjoyed in the morning, on a burger, or in a carbonara, there is scarcely better bacon for any occasion.
Berkshire pigs are originally from Berkshire County, England, but were introduced to Japan and the United States in the nineteenth century, and today are considered pork's closest approximation to Wagyu beef. Called Kurobuta pork in Japan, they remain the prime choice for elite chefs in Japan and beyond.
The animals in this selection were raised on family-owned hog farms in Missouri, Kansas, and Iowa. Though the farms and farmers differ in style and background, all are guided by principles of humane husbandry, ample pasture, and a commitment to excellence in the quality of the meat their animals will yield.
Iowa, United States
1lb avg.
How It Arrives
Frozen
This item was frozen at peak freshness to extend its longevity and ensure it ships to you in perfect condition. Upon arrival, either thaw and use promptly or transfer immediately to your freezer.
Shipping Policy
Perishable
This item will be overnighted to you in order to maintain its quality. If any item in your cart is perishable, your entire order will be overnighted. Exceptionally large shipments may incur additional charges.