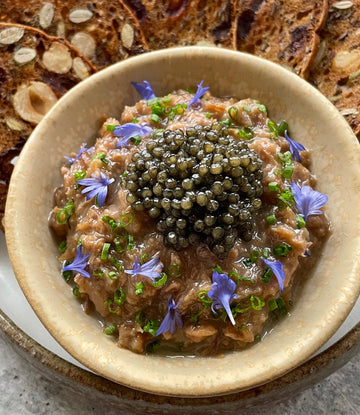 Confit Duck Rillette
15% discount
on every order placed for
1 year
.
Learn more
Product availability
Readily Available
This item is available throughout the year, and we proudly regard it as a staple of our catalog. If it is not in stock at the moment, it will likely be replenished soon.
Product Description
Made from sustainably raised Moulard ducks on what we believe to be the nation's finest vertically integrated duck farm and processing operation, this selection is fully cooked and ready to eat. Slowly poached in rendered duck fat with shallots, garlic , thyme, and bay leaf, this confit is a delicious snack or main dish, stuffed into pasta or torn into duck carnitas tacos. We recommend eating either chilled or fully, evenly heated in the oven. 
Based in Sullivan County, Upstate New York, our duck partners give an incredible amount of care to their birds, from breeding to feeding to slaughter. Few consumers are aware of the disproportionate difficulty in ethically raising waterfowl without antibiotics, or the amount of space and attention required to ensure that ducks have ample space to roam and feed without irresponsible exposure to disease introduction from migratory relatives. In order to optimize their birds' dispositions to these circumstances, these Moulards sustain a careful lineage originating from a hybrid of Pekin hens and Muscovy drakes, balancing ideal traits for size, fat content, mobility, digestion, and demeanor. From there, the ducks are raised significantly longer than the majority of American chickens, spending their final twenty five days before harvest experiencing the eminently complex and controversial period of gavage -- deliberately feeding the birds more than they would otherwise ingest, fattening their liver for the development of foie gras. Regardless of feelings toward the practice itself, our partners have developed and refined the least intrusive means of administering this feeding process that we have ever seen anywhere in the world. Every duck's esophagus is carefully monitored before its daily feeding to ensure it is not bulging or uncomfortably saturated, and the birds are then fed a precise amount of corn and soy through a plastic tube that slides into their gullets. After twenty five days of this process, the ducks are stunned before being slaughtered, hung to air dry, and then portioned into various foie gras formats as well as breasts, legs, confit, and other finished renditions.

Upstate NY
How It Arrives
Frozen
This item was frozen at peak freshness to extend its longevity and ensure it ships to you in perfect condition. Upon arrival, either thaw and use promptly or transfer immediately to your freezer.
Shipping Policy
Perishable
This item will be overnighted to you in order to maintain its quality. If any item in your cart is perishable, your entire order will be overnighted. Exceptionally large shipments may incur additional charges.