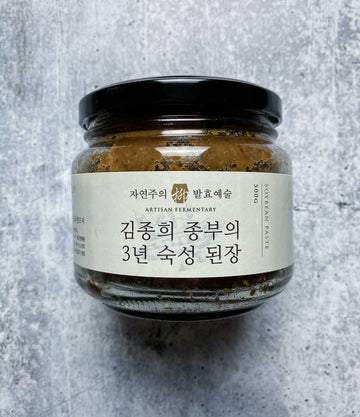 Three-Year Fermented Doenjang
15% discount
on every order placed for
1 year
.
Learn more
Product availability
Readily Available
This item is available throughout the year, and we proudly regard it as a staple of our catalog. If it is not in stock at the moment, it will likely be replenished soon.
Product Description
Doenjang is a thick, earth-toned paste made of fermented soybeans and salt, and has been a staple in Korean kitchens for centuries. While Japanese miso ferments rice and other grains alongside soybeans, doenjang's isolated use of soybeans results in a stronger, sharper, and deeper flavor with a coarse texture reminiscent of chunky peanut butter. This paste will inject any recipe with rich, complex umami.
The standard fermentation period for doenjang is at least 6 weeks, though Artisan Fermentary's matriarch Ms. Jonghee Kim ferments theirs for at least three years. The result is a deep, complex flavor not found in factory-made doenjang. Made using only 100% Korean-grown non-GMO soybeans and sea salt from the Yellow Sea, this fermented soybean paste will add a boost of umami to dips, soups, and stews.
500g
How It Arrives
Shelf Stable
If stored in a cool, dry place, this item will maintain its quality for several months or even years. Please refer to the language on your item's packaging or contact us directly to confirm the precise longevity of your item.
Shipping Policy
Non Perishable
This item will be sent to you via ground shipping. However, if combined with a perishable item, we will ship the entire order overnight to ensure your perishable items' quality. Exceptionally large shipments may incur additional charges.