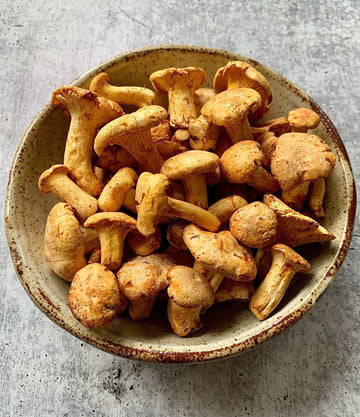 European Golden Chanterelles
15% discount
on every order placed for
1 year
.
Learn more
Product availability
Seasonal
This item is only available during certain seasons, and its availability is dependent upon weather conditions. Ingredients like this are fantastic hallmarks of their seasons.
Product Description
Chanterelles are firm, meaty, golden mushrooms that consistently rank among the most fondly regarded foraged edibles we purvey. Their sturdy texture makes them exceptionally versatile and resilient across myriad culinary approaches, with an earthy, peppery, piquant foundation offset by a distinctly sweet, stone fruity brightness often compared to apricots. Though they work beautifully in virtually any recipe that calls for mushrooms, we especially enjoy preparing chanterelles in butter or cream, where their dense flavor profile is lusciously amplified and absorbed by anything served alongside them. 
Freshly foraged in Europe, we love this selection's super-distinct golden glow, almost as if the mushrooms were dusted with turmeric. Their flavor is a robust and round expression of the classic chanterelle profile, and for the summertime, we love to thinly slice and sautée them with fresh, crisp vegetables. 
~1lb
How It Arrives
Fresh
This is a freshly harvested, perishable item that we recommend utilizing promptly upon arrival.
Shipping Policy
Perishable
This item will be overnighted to you in order to maintain its quality. If any item in your cart is perishable, your entire order will be overnighted. Exceptionally large shipments may incur additional charges.