Preorder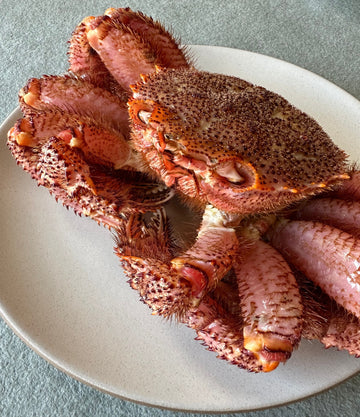 Kegani けがに (Hokkaido Hairy Crab)
15% discount
on every order placed for
1 year
.
Learn more
Product availability
Pre-order
This item is sourced to order. When requested, we immediately contact our sourcing partner to guarantee it gets to you at peak freshness and quality. Depending on the item, wait time may vary.
Product Description
Japanese Hairy Crabs (called Kegani in Japan and nicknamed "horsehair" crabs elsewhere in the world) are primarily fished from the Pacific Ocean and the Bering Sea surrounding Hokkaido, Japan's northernmost island. Kegani are smaller than most other popular crab species, and they earn their nicknames for the spiky hairs all over their shells. Their size can make them somewhat trickier to eat, but in refined Japanese cuisine, connoisseurs particularly favor Kegani, since their compactness provides dense, delicious meat with a firm texture and exceptional sweetness. 
Midway through each winter, large swaths of sea ice, called ryuhyo in Japan, are pushed south from the Sea of Okhotsk by winds and currents, making their way toward the northeastern coast of Hokkaido, Japan.  This visual spectacle draws tourists to the coast, and brings crab fishermen to the water. With fishing for Kegani off the coast of Russia formally limited, a considerable population of the crabs store nutrients in the ice and migrate with it south toward Japan. As conditions warm and the ice fractures, Kegani draw into shallower water, and are in season from April through August.
Freshly caught and shipped fresh, we recommend boiling Kegani in salty water and brushing with melty Nori butter, or finishing on the grill.
3lb avg.
Hokkaido, Japan
How It Arrives
Fresh
This is a freshly harvested, perishable item that we recommend utilizing promptly upon arrival.
Shipping Policy
Perishable
This item will be overnighted to you in order to maintain its quality. If any item in your cart is perishable, your entire order will be overnighted. Exceptionally large shipments may incur additional charges.