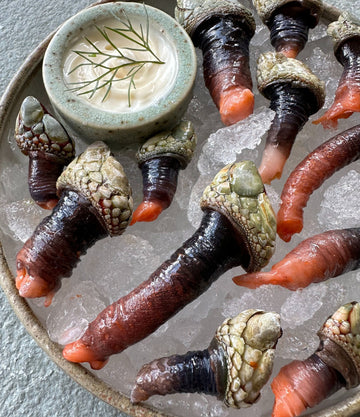 Gooseneck Barnacles (Percebes)
15% discount
on every order placed for
1 year
.
Learn more
Product availability
Seasonal
This item is only available during certain seasons, and its availability is dependent upon weather conditions. Ingredients like this are fantastic hallmarks of their seasons.
Product Description
Percebes, also known as Gooseneck Barnacles, are as esteemed and elusive as any seafood we carry, and perhaps for even more intuitive reasons than most. They are hard to find, difficult and dangerous to harvest, and more often than not, they're small and low-yielding. Nonetheless, anyone able to try renditions as jumbo, juicy, and clean as ours can easily see why they're treasured in Iberian and Iberian-influenced cuisines. Tender and smooth, with a texture best compared to razor clams and a flavor profile that splits the difference between razor clams and shrimp, these are delicate and elegant when enjoyed raw, while still having enough succulence to hold up beautifully on the grill. Percebes are graded by size, and ours are the largest and fattiest catches available, delivering the best flavor and value.
The cold, northerly waters off the Pacific coast of Alaska are owed much of the credit for how beautifully these Barnacles develop, imparting similarly sweet traits as found throughout coldwater shellfish. They live and grow against rocks jutting upward from the sea floor, and the most mature specimens are seldom located anywhere remotely easy to access. Traversing these slippery boulders is a precarious task itself, but gaining enough familiarity with the ebb and flow of the tides is also essential both for finding the best catches and living to tell the tale.

Alaska
1 lb, Live
How It Arrives
Fresh
This is a freshly harvested, perishable item that we recommend utilizing promptly upon arrival.
Shipping Policy
Live Seafood
In order to protect your seafood and ensure its quality upon arrival, this item will incur a surcharge for proper handling and packaging materials. All of our live seafood is selected and inspected for quality upon receiving your order.