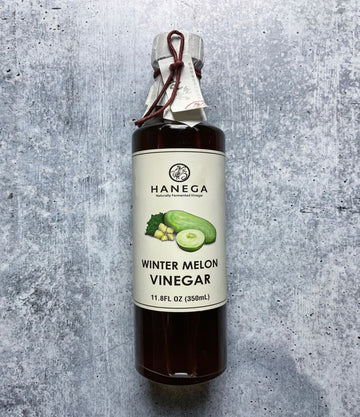 Hanega Winter Melon Vinegar
15% discount
on every order placed for
1 year
.
Learn more
Product availability
Readily Available
This item is available throughout the year, and we proudly regard it as a staple of our catalog. If it is not in stock at the moment, it will likely be replenished soon.
Product Description
Winter melon is rich in vitamins and nutrients, and has long been prized in eastern Asia as an integral aspect celebratory meals. Though winter melon is a vegetable, this vinegar has a bright flavor, rounded out by a slight sweetness that can deceive the palate into thinking it's a fruit based vinegar. We love it as a vinaigrette, or diluted with sparkling water and a slice of lemon. It can also be a great dipping vinegar for tempura, or with pan fried dumplings mixed with a generous amount of pepper.
Hanega is one of Korea's elite makers of artisan vinegars, highlighting fruits, vegetables, and herbs that are often underappreciated but always deliver incredibly complex and distinct finished products.
Ganghwado, South Korea
350ml 

Ingredients: Winter melon, water, brown sugar, ginkgo berry, white rice, yeast (wheat), malted barley, brown rice, glutinous rice, Korean red pine needle
Unpasteurized. Non-GMO, no preservatives, additives, trans-fats or refined sugar
How It Arrives
Shelf Stable
If stored in a cool, dry place, this item will maintain its quality for several months or even years. Please refer to the language on your item's packaging or contact us directly to confirm the precise longevity of your item.
Shipping Policy
Non Perishable
This item will be sent to you via ground shipping. However, if combined with a perishable item, we will ship the entire order overnight to ensure your perishable items' quality. Exceptionally large shipments may incur additional charges.