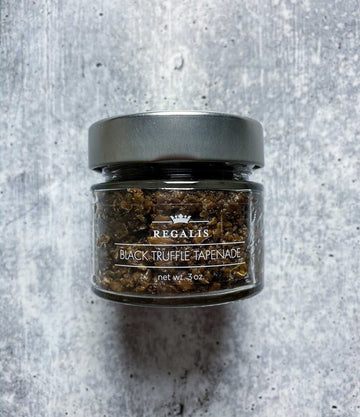 Black Truffle Tapenade
15% discount
on every order placed for
1 year
.
Learn more
Product availability
Readily Available
This item is available throughout the year, and we proudly regard it as a staple of our catalog. If it is not in stock at the moment, it will likely be replenished soon.
Product Description
A "tapenade" is simply a coarse, spreadable condiment typically paired with bread or crackers. Popularized in Provençal, southern France, we look throughout the Mediterranean for many of our favorite tapenades, consisting of olives, capers, and any permutation of fresh herbs. In this selection, we've sourced Summer Black Truffles from Italy, finely minced alongside champignons de paris (little French button mushrooms), woven together with exquisite extra virgin olive oil. Altogether, this is an exceptionally fragrant and scrumptious spread, excellent with pasta or brushed onto crisp bruschetta.
Truffle Provenance: Abruzzo, Italy
How It Arrives
Shelf Stable
If stored in a cool, dry place, this item will maintain its quality for several months or even years. Please refer to the language on your item's packaging or contact us directly to confirm the precise longevity of your item.
Shipping Policy
Non Perishable
This item will be sent to you via ground shipping. However, if combined with a perishable item, we will ship the entire order overnight to ensure your perishable items' quality. Exceptionally large shipments may incur additional charges.