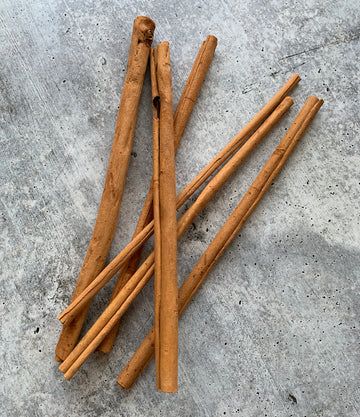 Canela Cinnamon Branch, 1ft quills
15% discount
on every order placed for
1 year
.
Learn more
Product availability
Readily Available
This item is available throughout the year, and we proudly regard it as a staple of our catalog. If it is not in stock at the moment, it will likely be replenished soon.
Product Description
Real Canela is wildly aromatic, with sweet floral brightness and herbal vanilla undertones. An extremely rare ingredient to come by, and even rarer in a full quills - this is truly a special, exceptional item to have on hand.
This is new harvest Mexican Canela, from the the inner tree bark of the evergreen cinnamon tree. Canela is indigenous to Sri Lanka and is the famous varietal first introduced to Latin America in the 16th century by the Spanish. To this day, Mexico currently imports close to 95% of their supply abroad, though the original hybridized "Ceylon" cultivars are still being grown in pockets of Oaxaca. These particular quills measure over 3 feet long and should not be confused with their counterfeit cousin, cassia, the cheap and bitter "cinnamon stick" that accounts for 90% of American imports. Unfortunately it's quite difficult to ship the full 3 foot quills, so we are now offering them in 1 foot sections.
Item sold in .5 lb or 1 lb quantities
How It Arrives
Shelf Stable
If stored in a cool, dry place, this item will maintain its quality for several months or even years. Please refer to the language on your item's packaging or contact us directly to confirm the precise longevity of your item.
Shipping Policy
Non Perishable
This item will be sent to you via ground shipping. However, if combined with a perishable item, we will ship the entire order overnight to ensure your perishable items' quality. Exceptionally large shipments may incur additional charges.