Preorder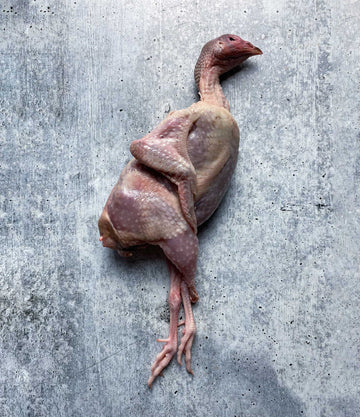 Coturnix Quail, "New York Dressed"
15% discount
on every order placed for
1 year
.
Learn more
Product availability
Pre-order
This item is sourced to order. When requested, we immediately contact our sourcing partner to guarantee it gets to you at peak freshness and quality. Depending on the item, wait time may vary.
Product Description
Please note that this bird is being offered "New York Dressed," meaning that its feather have been plucked, but its entrails are intact. We also offer this bird in full plummage, for those interested in dry-aging their birds at home.
Since 1988, Bill and Rick have sustained an incredible reputation for their range of rare culinary game birds. The Coturnix Quail is the heart of their offerings, a bird they've been hatching, raising, and finishing for decades, hand selecting the best birds from each generation to maintain an impeccable breedstock. Today, this lineage can be traced back twenty-five years, to the point when the two brothers decided to shift their focus from Pheasants, Partridges, and other game birds, concentrating their energy on the Coturnix Quail. Though other offerings grace their catalog seasonally, the Coturnix is the one that made Bill and Rick have enthusiastic, collaborative conversations with chefs, seek wisdom from hardscrabble dairy farmers in Vermont, and laugh in the face of consultants in the commercial Quail industry who told them not to bother.
Compared to widely available, commercial Quail, this Coturnix will be much larger, with a darker color, and a flavor profile that's gamey but still sweet, moister and fattier than the vast majority of game birds raised for hunters rather than chefs. Producing meat of this caliber requires a complex mix of wildness and well stewarded land -- the birds' behavior must match their nature, but they must be well protected from predators and disease, while enjoying a diet that enriches their figure with good, clean fats. From their 75-acre farm in Vermont, Rick and Bill are able to uphold this balancing act, and the results are some of the most satisfying birds you can find anywhere in the United States.
Please note: orders placed on Monday/Tuesday will ship out within 1-2 days; orders placed any other day of the week will ship out early the following week.

We have two size variants available. A pack of 5 and a pack of 10 quail.
How It Arrives
Fresh
This is a freshly harvested, perishable item that we recommend utilizing promptly upon arrival.
Shipping Policy
Perishable
This item will be overnighted to you in order to maintain its quality. If any item in your cart is perishable, your entire order will be overnighted. Exceptionally large shipments may incur additional charges.