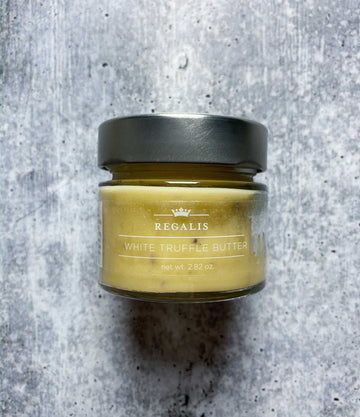 Clarified Grass-Fed Umbrian White Truffle Butter
15% discount
on every order placed for
1 year
.
Learn more
Product availability
Readily Available
This item is available throughout the year, and we proudly regard it as a staple of our catalog. If it is not in stock at the moment, it will likely be replenished soon.
Product Description
Umbria is a famously lush region in central Italy, known for its olive oils, wines, and dairy, among much more. For this selection, fresh butter from grass-fed cows is churned with White Winter Truffles to produce a luscious, subtly piquant butter that marries beautifully with myriad accompaniments. On their own, the White Winter Truffle flavor profile eludes easy summary — they're garlicky, with a rustic barnyard funk reminiscent of exquisite cheese and a caramelized nutty sweetness that melts marvelously into fat, the very trait that makes this butter such a stellar staple to have on hand.
This product is shelf-stable.
Jars contain 3oz of butter.
How It Arrives
Shelf Stable
If stored in a cool, dry place, this item will maintain its quality for several months or even years. Please refer to the language on your item's packaging or contact us directly to confirm the precise longevity of your item.
Shipping Policy
Non Perishable
This item will be sent to you via ground shipping. However, if combined with a perishable item, we will ship the entire order overnight to ensure your perishable items' quality. Exceptionally large shipments may incur additional charges.