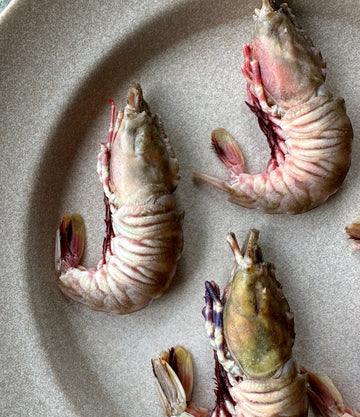 Rock Shrimp (3 lbs)
15% discount
on every order placed for
1 year
.
Learn more
Product availability
Seasonal
This item is only available during certain seasons, and its availability is dependent upon weather conditions. Ingredients like this are fantastic hallmarks of their seasons.
Product Description
With squat heads, thick shells, and iconic stripes, Rock Shrimp are unmistakable, but until relatively recently, they were also impenetrable, for all practical purposes. It wasn't until the late twentieth-century that a machine was invented to easily peel away their armor and accelerate their ascent toward commercial relevance. Even now, they remain a rare sight outside of southern Florida, making us all the more thrilled to bring them into our collection.

Savory, briny, and delicate, Rock Shrimp are best cooked only lightly, similarly to how one might treat a lobster. Perhaps thanks to their elevated umami, they're a favorite shrimp for pickling. Like all of our shrimp from the Gulf of Mexico, sicyonia brevirostris is caught on a small vessel that is part of a decade-long Fishery Improvement Project in the Gulf, representing a partnership that we are extremely proud of.

Gulf of Mexico
3 lbs, whole, frozen
How It Arrives
Frozen
This item was frozen at peak freshness to extend its longevity and ensure it ships to you in perfect condition. Upon arrival, either thaw and use promptly or transfer immediately to your freezer.
Shipping Policy
Perishable
This item will be overnighted to you in order to maintain its quality. If any item in your cart is perishable, your entire order will be overnighted. Exceptionally large shipments may incur additional charges.