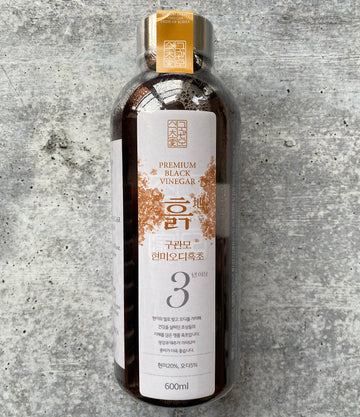 Kookwanmo Mulberry Black Vinegar
15% discount
on every order placed for
1 year
.
Learn more
Product availability
Readily Available
This item is available throughout the year, and we proudly regard it as a staple of our catalog. If it is not in stock at the moment, it will likely be replenished soon.
Product Description
Kookwanmo is a famed Korean maker of traditional black vinegars. Combining a brown rice base with only natural and local ingredients, their vinegars age in traditional earthenware urns for at least three years in order to create their signature deep, inky color. This particular vinegar is made with mulberries, providing a rich, complex balance of sticky sweetness and earthiness, making this vinegar incredibly palatable for a variety of uses.
On their own, mulberries look like elongated blackberries, with a good balance between sweetness, tartness, and hints of more rustic flavors such as cedar, cocoa, and baking spices.
Daegu, South Korea
600ml
How It Arrives
Shelf Stable
If stored in a cool, dry place, this item will maintain its quality for several months or even years. Please refer to the language on your item's packaging or contact us directly to confirm the precise longevity of your item.
Shipping Policy
Non Perishable
This item will be sent to you via ground shipping. However, if combined with a perishable item, we will ship the entire order overnight to ensure your perishable items' quality. Exceptionally large shipments may incur additional charges.