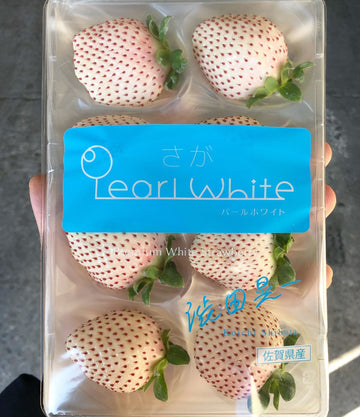 Japanese White Strawberries
Regular price
$150.00
Sale price
$135.00
15% discount
on every order placed for
1 year
.
Learn more
Product availability
Highly Seasonal
This item is only in season for a few weeks of the year, and its availability is even further limited by local weather patterns and foraging conditions. Ingredients like this are some of our favorite snapshots of time and place.
Product Description
Few items in our catalog have the magical charm of the White Strawberry, a wildly delicious, gorgeous feat of elite farming that makes any beholder feel like a kid again. Snow white on the inside and out, plumper than traditional reds, and exceedingly sweet, these beautiful "berries" require generations of carefully selected cultivation and limited exposure to direct sunlight to possess a scrap of snowy potential. Still, even when all conditions are meticulously arranged, only about 10% of a farm's production will come out as pale as desired. 
These particular selections come from the Yanagisawa Yuichi family farm in Japan, who fondly nickname them the "Snow Rabbit" White Strawberries. As aromatic and sweet as any in the world, the Yuichi family ensures that their harvests register extremely high residual sugar content, reinforcing the fruit's stunning visuals with a flavor profile that evokes tropical fruit candies, cohesively complementing the Snow Rabbits' overall tendency to transport whoever's enjoying them to somewhere between Alice's Wonderland and Wonka's Chocolate Factory, albeit far less traumatic.

8 strawberries/tray
 *strawberries may shift in their tray during shipping and strawberry farm packaging may alter slightly (we source only the highest quality brand of the week via the Toyosu Market weekly berry auction)
How It Arrives
Fresh
This is a freshly harvested, perishable item that we recommend utilizing promptly upon arrival.
Shipping Policy
Perishable
This item will be overnighted to you in order to maintain its quality. If any item in your cart is perishable, your entire order will be overnighted. Exceptionally large shipments may incur additional charges.